we smash the rules …
Why A Queer Punk Thingy?
We smash the rules …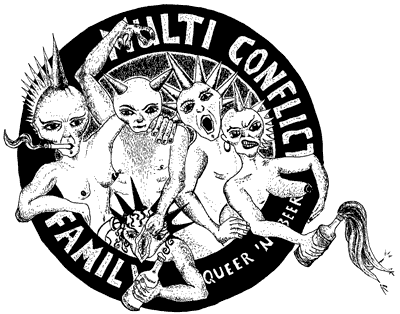 There is no contradiction between punk and queer. Looking back to their roots, punk and queer were like cousins who followed the same path, both opposing social values and conventional behaviour.
Over time they have turned into systems themselves, becoming more conservative and excluding each other.
The punk movement has become homophobic and conservative as "rules for being punk" have developed. Too often we see male punx ask their girlfriend to hold their jackets so that they can pogo.
Additionally, grappling with these standards, men feel obliged to act "punk" or "skin": being destructive and obnoxious, violent and sexist. They are obeying rules learned from typical hetero-patriarchal structures. We don't want to propagate this.
The gay community, too, has formed oppressive rules. Gay-Pride is an illusion that keeps us locked into roles and restrictive labels. We don't need dress codes, or to adhere to heterosexist, hierarchical norms. Break these rules!
Being queer or punk isn't about a fashion or about homosexuality. It's a way of living without conforming to society´s accepted norms. Queer is based on a sex-positive philosophy.
That means that everybody, regardless of gender or sexual orientation, is invited to get involved with us and celebrate their sexuality in the way they feel comfortable with. Fight against sexism and sexual oppression not sexuality!
Subculture becomes more and more an issue of bringing attention to gender. Queer is not exclusively gay and lesbian; it's an independent, equal, D.I.Y, borderless, self-conscious, sex-positive, provocative and genderfuck way of thinking, behaving and acting. We are all more or less in the same boat, paddling around trying not to drown in our negative experiences. We should encourage communication and co-operation.
Building supportive, connected groups of queers offers us opportunities to form strong relationships that don't depend on traditional hetero models.
The Queer Punk Thingy is an idea that doesn't need to wrap up itself in rhetoric, dogma and commercial shit. It's a self-organized, non-profit and authentic movement; a well-developed culture that brings together the queer, punk and alternative music scene D.I.Y. enough to not need the mainstream music industry.
We want to get away from excluding punx who are "not punk enough" and queers who are "not queer enough".
We want those who attend to react and interact positively, feel connected and have fun, and maybe leave with a more positive feeling about punx and queers and queerpunx. We stand for freedom and respect.
We aim to inspire future actions that are punk-positive, queer-positive and inclusive for everyone!
This is not just another queer-party. We want to form a D.I.Y. based world community of queer punx who network with each other.